WELCOME FALL 2023 STUDENTS LIVING ON CAMPUS
Congratulations on your acceptance to the University of Arizona! Now that you're one of us, follow the steps below to secure your required Meal Plan. Next, explore your Meal Plan benefits to ensure you're ready to enjoy all that dining has to offer when you get to campus.
PLEASE NOTE: If you are a first-year student living on campus, you will be automatically assigned the 12-Swipe plan appropriate for your housing assignment. If you would like to select a different plan, please login and make your selection now.
Click here for information about financial considerations for low-income students.
Make sure you complete your University enrollment and register for a NetId before moving on to the next step.
Once you receive confirmation, you're ready for a Meal Plan!
If you choose not to make a selection, you will automatically receive the Santa Rita Swipe Meal Plan.
After successfully completing your Orientation session you'll receive information about how to sign up for your CatCard.
You will be able to access your Meal Plan funds once you have received your CatCard.
IMPORTANT BILLING TIMELINE
| | |
| --- | --- |
| JUNE 1 | If you have applied to on-campus residential housing you can now log in and view your Meal Plan. |
| JULY 18 | Meal Plan charges will be applied to your Bursar account. Further changes must be made through the Meal Plans office. You may choose to pay for your Meal Plan in full prior to this date. |
| AUG 15 | Swipes are activated the first day of move-in week. |
| SEP 4 | You can make any final downgrades to your plan up until this date. |
| AUG 2023- MAY 2024 | Upgrades can be made to your Meal Plan. |
The Santa Rita Swipe Plan will automatically be assigned to all first-year students living on campus. You have the opportunity to explore additional Meal Plan options below that may better suit your needs.



Swipe Meal Plans are the most robust Meal Plans, offering the greatest flexibility in their use. Each Swipe Meal Plan includes all four of these component buckets:
The amounts in each bucket vary slightly depending on the plan selected. The annual cost can be broken down into 2 payments - one in fall semester and one in spring semester.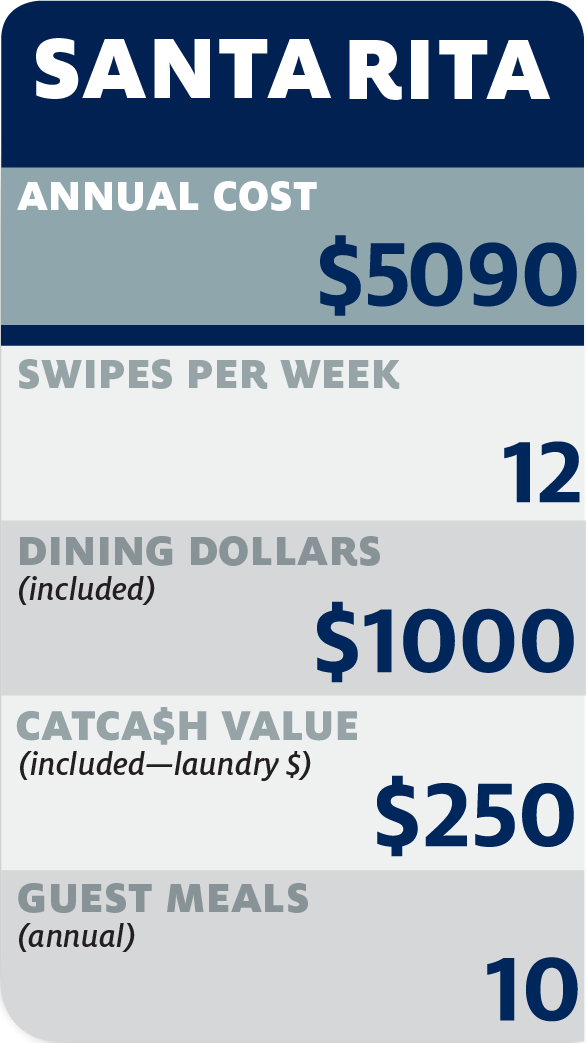 WHERE CAN I EAT WITH MY MEAL PLAN?
Your Meal Plan works at over 30 on-campus dining locations (see map below)! From all-you-care-to-eat (cafeteria) restaurants like '85 North and Cactus Grill to markets and vending machines, your Meal Plan gives you convenient and flexible access to dine with us on campus.

View and download the Arizona Dining & Nutrition Guide or visit Arizona Dining for more information on all things dining.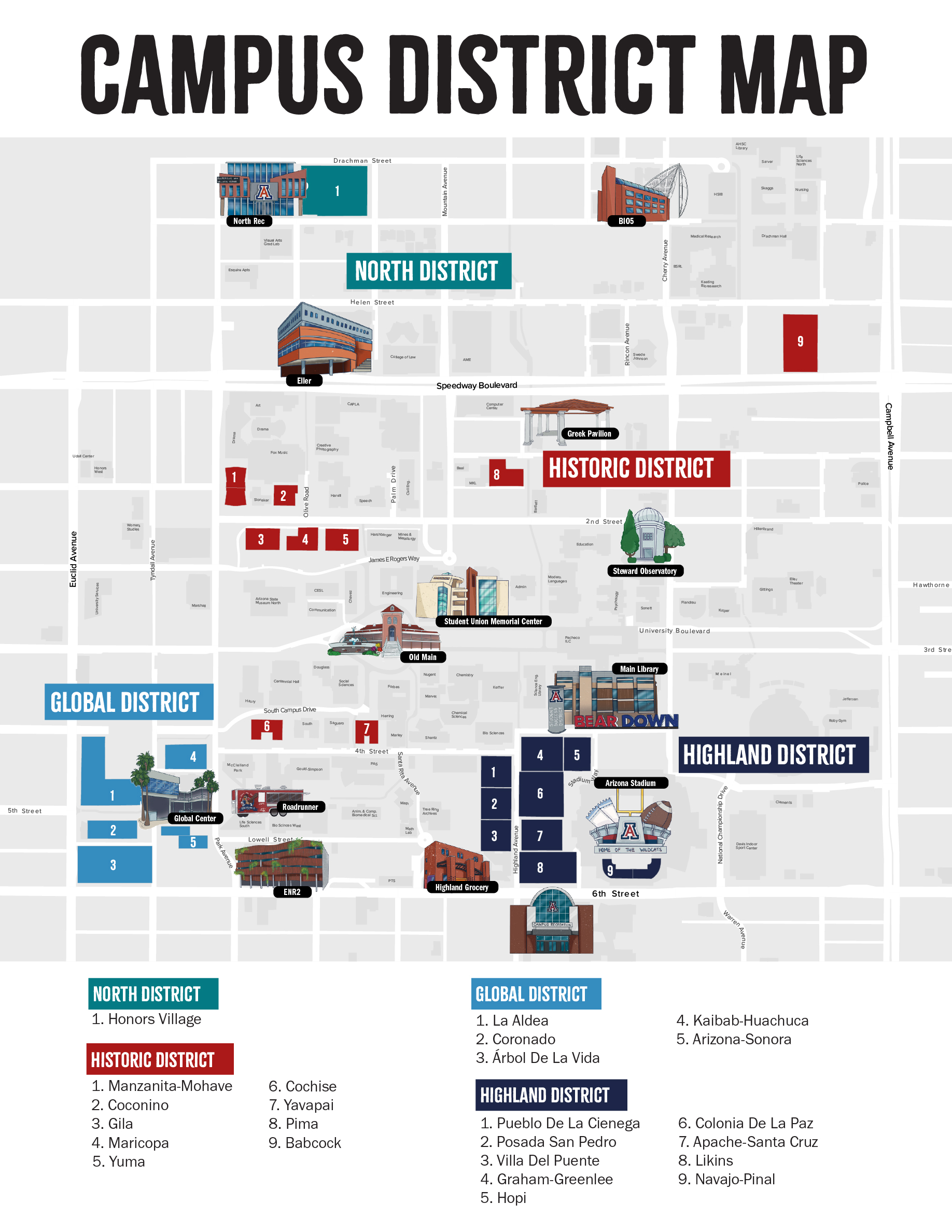 *All-you-care-to-eat dining locations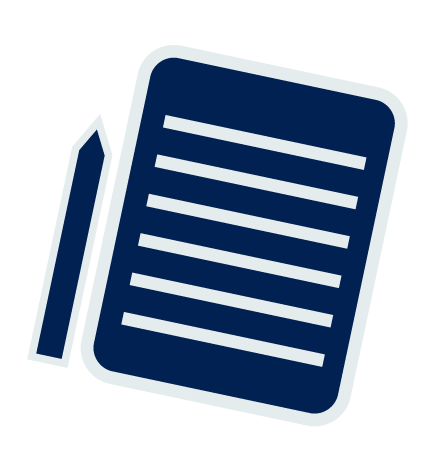 Need more information? Have a special or unique circumstance? We're here to help!
VISIT US
Meal Plans Office
Student Union Memorial Center
Room 248
1303 E. University Blvd.
Tucson, AZ 85721
CALL US
520-621-7043
800-374-7379


EMAIL US
su-mealplan@email.arizona.edu